Ofsted
"Van Gogh Primary has a wonderful set of teachers who are great team players. The love, commitment and care that flows from the Headteacher down to non-teaching staff is the best I have ever seen"
Year 4 Parent
"The focus seems to be the well-being of the children and their development. I like that there are so many opportunities to be involved in the school, and I like how well I'm kept informed about my child's progress with regular feedback from his teachers"
Year 1 Parent

Van Gogh Primary school was established on 1 September 2018 as part of the Dunraven Educational Trust and has not yet been inspected by Ofsted.
"I love that the school has a nice community environment, Everyone is friendly. My child gets to play with a variety of different children."
Year 2 Parent
"The class ambassadors would come and introduce themselves and tell me what they were currently working on and anything else they wanted to tell me about themselves. I found that in all the classrooms the children were focused, polite, and the atmosphere was very calm."
Chair of Governors
The predecessor school, Durand Academy was inspected in November 2016. Click here to download the full report. Durand Academy was subsequently closed in August 2018 as funding was withdrawn by the Education & Skills Funding Agency. There is now a completely new team leading the school.
Journey of Improvement since March 2018
When Ofsted visited in 2016, they made several recommendations for improvement. We have grouped these into three key areas.
Ofsted December 2016 Action No.1: 'Improve procedures and practice for safeguarding to ensure that they promote the safety and welfare of pupils and meet statutory requirements'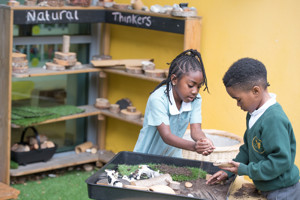 Safeguarding is a top priority for the entire school community.
All staff receive regular and robust training in a range of safeguarding matters such as: 'Signs and Symptoms', 'Online Safety', 'Positive Handling', 'Supporting children who have experienced trauma', 'Tackling sexism and Sexual Harassment'
We follow rigorous 'Safer Recruitment' processes for staff and visiting adults
Children are taught how to keep themselves safe and what to do if they have any concerns or worries
There is a supportive and reassuring 'open door policy' for children to speak to adults if and as required
Regularly reviewed and revised policies and procedures including, 'Anti-bullying', 'Positive Behaviour', 'e-safety' and 'Positive Handling' ensure that children are protected from preventable harm
Designated Safeguarding Lead (DSL) and Deputy Designated Safeguarding Leads (DDSL) have weekly safeguarding review meetings to review caseload and the ongoing effectiveness of policies and procedures
All staff use an online reporting platform which allows the school to keep accurate records of any incidents or concerns. This is monitored closely by the Designated Safeguarding Lead and Deputy Designated Safeguarding Lead
Annual internal and external safeguarding audits provide further assurances that a 'safeguarding culture' has been established in the school
The Trust has a Safeguarding Network Group to ensure DSL has access to supervision, the latest training and updates
Safeguarding Link Governor (Kirsty Pearce) meets regularly with DSL
"Staff spoke positively about safeguarding in the school. They spoke of a commitment to children and a culture of wanting to understand what is behind a child's behaviour or any concerns.
I spoke with the Lead Safeguarding Governor, who is also the Chair of Governors. She was very positive about the safeguarding culture in the school, describing safeguarding as being taken very seriously and a culture of openness."
Cath Irving, Independent Child Safeguarding and NSPCC Accredited CP trainer
"The classrooms were focused and calm learning environments. An atmosphere of care and nurture for the well being of students permeated every aspect of my visit."
Health & Safety Link Governor
Ofsted December 2016 Action No.2: 'Improve leadership and management' - focusing on quality of provision, use of Pupil Premium and Sports Premium, leadership capacity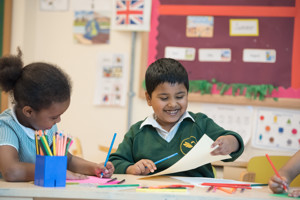 Leaders ensure that the quality of teaching and learning is consistent and that resources are effectively targeted, with a particular focus on children from disadvantaged backgrounds and those with Special Educational Needs and/or Disabilities.
"From the very start, leaders at Van Gogh have placed quality literature at the heart of their own curriculum. Leaders have carefully planned that, as children move through the school, they experience a wide range of high-quality-literature and that many of these books are diverse and inclusive. Leaders have ensured that there are multiple opportunities for children to creatively publish their writing, making exciting links to Art and DT. Displays across the school proudly celebrate children's hard work."
Literacy Tree Consultant
A restructure and reorganisation of pupil-facing staff leadership at all levels
Weekly professional training and development to all pupil-facing staff to ensure that the quality of teaching and learning is consistently high quality
New policies and procedures (including 'Teaching and Learning' and 'Feedback') focused on improving pupil outcomes
Improved learning environment including new EYFS outdoor learning environment to support pupil engagement
Implementation of a new curriculum (including the discrete teaching of systematic phonics supported by RWInc., 'Teach through a text' English and a mastery approach to Mathematics)
New assessment procedures (formative and summative) to ensure that teaching is well matched to the needs of the children and that children are being sufficiently challenged in their learning
Ongoing Pupil Performance Reviews lead by Senior Leaders to ensure individual children, rather than cohorts, are monitored and tracked - targeted support given where necessary
Intensive work to identify children with Special Educational Needs and/or Disabilities and ensure they are receiving the support they need and deserve
High levels of support, challenge and accountability from and to the new LGB ( including the use and spend of the Pupil Premium Grant, COVID Recovery Grant and Sports & PE Grant)
"Appropriate work for age, staff are very polite, I always get regular updates from teachers regarding my child's progress."
Year 5 Parent
Ofsted December 2016 Action No.3: 'Improve the quality of teaching and learning to enable pupils to make consistently good progress across the school, including in writing and for the most able and disadvantaged pupils'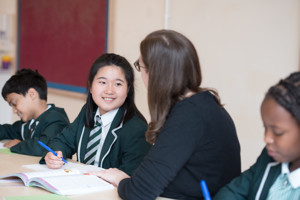 We have introduced a new, rich and relevant curriculum, ensuring children achieve basic skills in literacy and numeracy, as well as establishing strong foundations in the wider curriculum to prepare them for the next stage of their education.
"Van Gogh Primary School has invested heavily in building the capacity of staff to deliver engaging and creative English lessons with complete coverage of the curriculum. We have also provided CPD for Teaching Assistants to deliver engaging intervention sessions for individual or small groups of children. Because Van Gogh Primary has implemented the Literary Curriculum across the school, it has ensured a consistency of approach and high expectations across year groups."
Literacy Tree Consultant
Staff professional training and development, including for pupil-facing support staff, based on the most up-to-date evidence based approaches to supporting all children to succeed
Substantial support for children with undiagnosed Special Educational Needs and/or Disabilities
RIgorous monitoring (Week in Learning, Pupil Performance Review Meetings, Learning Walks, Lesson Dips, Pupil Sampling) pupil voice and assessment to ensure that teaching is well matched to all children (with a specific focus on high attainers, disadvantaged, SEND)
Revised curriculum to promote challenge and additional layers of support for identified children
Implementation of DET 'Curriculum Principles' to support effective Teaching and Learning experiences
Variety of clubs and extended school activities that engage and promote a range of new and enriching experiences for children